Water-Lok was invited into Saudi Arabia in 1993 through a company called NAFA. With the help of Nafa, various test plots were conducted and Water-Lok was introduced to the Middle East.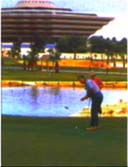 NAFA ran into financial difficulties and the sponsorship of Water-Lok was taken over by Al Alami construction and Water-Lok was incorporated into the first grass golf course at the Golf Course located at the Inter-Continental Hotel in Riyadh. Through Al-Alami construction and their affiliate "Citi-Scape Landscaping" Water-Lok was installed in various parks and developments in the area.
Other installations were in the cities of Najran, Jeddah, Jubail and Yanbu.