Water-Lok / Tunisia

Water-Lok was invited into Tunisia in 1997. While there test plots were done under the Ministry of the Environment.

Soils that were tested ranged from the sandy soil in the south to heavy Clay soils in the north.

In the South, water savings reduction that was achieved was up to 80% over their current water usage. The experimentation's were so outstanding that the University of Ghent, Belgium took and interest in Water-Lok and two thesis's were written on the subject.
The Ministry of Agriculture in Tunisia carried out testing of the Water-Lok product.

The following pictures show the installation procedure and the results of the installation.

Water requirements were reduced up to 80% which is a major savings in water costs.

The germination of the crop with with reduced watering schedule increased by 25%.

Preparation of the site for the Sorghum. The sites were leveled and replicated. One side with normal watering and one with reduced watering.
The Water-Lok was then spread out on top of the growing area to be tilled into the soil.
A roto tiller was used to mix the Water-Lok into the growing plots.

After the tilling, the plot was again leveled.

The Results of the Water-Lok in Sandy Soil

On the left is the plot with normal watering and no Water-Lok installed.

On the right is a plot with 80% less watering and Water-Lok installed.

Not only is the plot on the right greener but it is taller.

Water-Lok was also tested in the planting of Palm trees. The tree in the foreground is with Water-Lok and the trees behind are with out the material.

All trees were planted at the same time and already the tree with the Water-Lok is larger than the rest.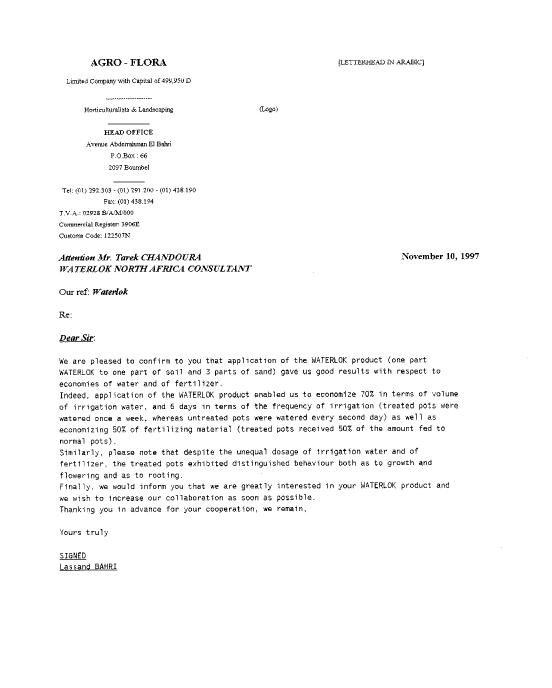 The University of Ghent referred out material to the Peoples Republic of China for their consideration.
Return to Home Page